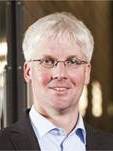 Prof. Dr. Christian Koos
Engesserstr. 5
76131 Karlsruhe
Germany
Curriculum Vitae - Prof. Dr. Christian Koos
Name:

Christian Koos

Position:

Professor

With this Institute since:

March 1, 2010

Curiculum Vitae:

Christian Koos is a professor at Karlsruhe Institute of Technology, Institute of Photonics and Quantum Electronics (IPQ) since 2010. He received the Dipl.-Ing. (M.Tech.) and the Dr.-Ing. degree in Electrical Engineering from the University of Karlsruhe, in 2002 and 2007, respectively. From 2007 to 2008, he carried out post-doctoral research at the Institute of Photonics and Quantum Electronics, University of Karlsruhe, where he pioneered nanophotonic silicon-organic hybrid (SOH) devices. From 2008 to 2010, he was leading the technology radars "Nanotools and Nanometrology" and "Metrology" within the Corporate Research and Technology department of Carl Zeiss AG, Germany.

Honors:

Research:

Nanophotonic devices

Silicon photonics and silicon-organic hybrid (SOH) integration
Fabless photonic device fabrication
Novel materials and device concepts
Integrated frequency comb sources

Integrated photonic systems

Silicon photonic system integration
3D photonic-electronic integration
Photonic wire bonding

Photonic communications

Advanced modulation formats and signal processing schemes
Photonic-electronic signal processing of Terabit/s data streams
Energy-efficient broadband communications

Optical metrology

Integrated optical metrology systems
High-precision optical distance measurement techniques
Optical coherence tomography for industrial applications

Publications:
Open Positions
We are looking for talented, creative and self-motivated individuals to reinforce our research team. Current areas of research cover the following areas:
Silicon photonics and novel nanophotonic device principles
Photonic-electronic system integration and teratronics
Energy-efficient photonic communications at Terabit/s data rates
Integrated photonic systems for high-precision optical metrology
Applicants should hold an outstanding Master/Diploma or PhD degree in electrical engineering, physics, or a related discipline. The work requires both theoretical and experimental skills and the ability to efficiently cooperate within an international team. Our research projects are scientifically demanding and feature a high potential in industrial applications. Post-doctoral scientists will have the opportunity to actively lead parts of the research.
Candidates are encouraged to submit their application documents (CV, certificates, references) electronically as one single pdf file to Prof. C. Koos.
Jobs/open positions